if you know me well . . . you would say i'm a perfectionist in all areas. this blog thing is no exception. i wasn't completely happy with the original layout and i was having issues with getting my slideshow to show up. after a whole lot of research and seeking out some help, i think i finally got it. the bummer is that once again i have spent the whole day working on my blog and not scrapping! AARRGGHH!!

i did manage to get one layout completed yesterday. both sides of the layout were completed for challenges. the photos are of richard playing golf at the foxtail golf club in rohnert park, ca. one of his best friends lives in the bay area and plays in a band. one time when we were visiting, he played a round of golf here. he didn't play so well, but the course was sooooo beautiful.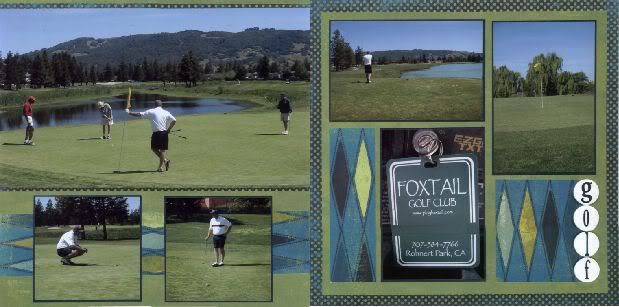 This side was for inspiration challenge #56 on twopeasinabucket. (yeah, so they are on challenge #60 and i'm on #56 . . . ya wanna make somethin' of it? LOL!) i couldn't resist having the top photo printed as a 12x8. the mountains in the background were just too gorgeous.




this side was for pencil lines sketch # 71. (i'm kinda up to date here . . . skipped about 6 challenges, but i will play catch up . . . i promise!) i slightly changed the sketch by rotating it to the side in order to fit my photos. richard didn't like playing the hole that is shown in the upper left photo. he lost three balls in the water trap. oh well . . . the beauty of the course and the other 3 guys he played with (including my company) made the round very enjoyable. besides . . . he never has a bad time playing golf . . . even when he doesn't do well!




i completed these two layouts on saturday. i had the wonderful opportunity to meet two fellow scrappers in my new community. it's hard to explain . . . but we feel kinda removed here. it's kinda like living out in the country with suburbia plopped right in the middle of it. all of the decent shopping is at least 15 minutes away. i meet the two women i scrapped with on a forum for our community. i had fun that evening and met two new friends.

the first layout is of nature at foxtail golf club. every time we go to a new golf course, i go with richard and take pictures. of course, i have to take pictures of the wildlife and scenery in order to document the whole experience. (isn't that what we scrappers are supposed to do?) richard thinks it is the funniest thing and doesn't see them as "golf picutes" . . .but i still put them in his album :) i got the inspiration for this layout from a sketch on twopeasinabucket.




i noticed throughout all of the pictures i take of richard golfing that i have several of him squatted on the green planning his putt. when i took these pictures, i didn't have any particular layout in mind . . . but as i was looking through my pictures to finish pencil lines sketch # 68, i came up with this idea. i LOVE how this layout turned out! i have never done one with such a big title . . . but it was fun! (oh yea . . . one more pencil lines sketch out of the way but still behind!)




off to town now! i need to get a new blade for my cutter and do that silly thing called grocery shopping! hopefully i'll get a chance to scrap tonight! adios for now!